Two new reports reveal the most used passwords in 2022. These data from the dark web reveal, once again, the terrible choices made by a majority of users, to the detriment of their security.
Cybersecurity researchers from Cybernews and the password management company NordPass are taking advantage of this end of the year to take stock of the most used passwords in 2022. Data that highlights their very low level of security , around the world.
Two studies, one observation
We take the same and start again. Again this year, users are setting (very) weak passwords to secure their accounts, which can unfortunately have disastrous consequences. The two studies by NordPass and Cybernews highlight the most used passwords in the world, but also by country (France is not spared) and according to different categories.
To establish its classification, cyber news collected 56 million hacked or leaked passwords in 2022. These were found on the darknet or on hacker forums (clearnet). For its part, NordPass indicates that it has established its list of passwords in partnership with independent researchers and specialists in the research of cybersecurity incidents.
The latter evaluated a 3 TB database, stating that some information may date from the end of 2021, but was listed after data breaches that occurred in 2022. The NordPass study also helps to classify passwords the most used depending on the country. The opportunity to see funny specificities depending on the region.
The most used passwords in 2022 are…
At the global level, we find the unbeatable "password" and "123456", closely followed by "guest" and "qwerty", "azerty" being in 30th position. Also very worrying, the default password used by workers with system access privileges is none other than "admin"…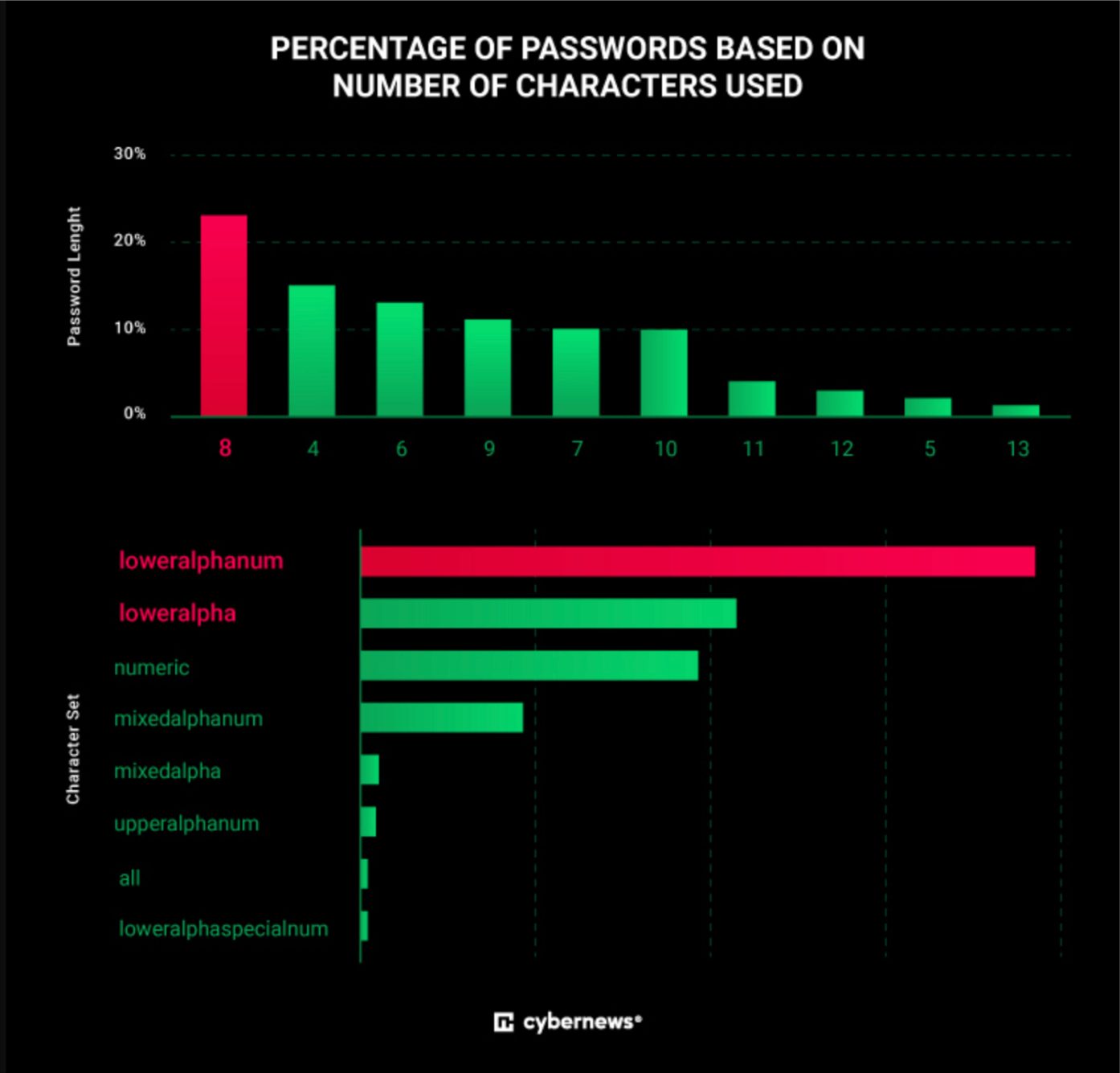 The number and type of characters used also says a lot about the level of protection that passwords can provide. Also globally, more than 20% of passwords are only 8 characters long, and only 15% are 4 characters long. The overwhelming majority of users create alphanumeric passwords with no capitals. The second most used structure does not contain any numbers or special characters.
Discover : Our comparison of the best password managers
Using the NordPass country ranking, we see that France is no exception, with that good old "123456" in the first position, followed by its variant "123456789". "azerty" completes the French-speaking top 3. There are also a few nuggets like "loulou" in 7th position, "doudou" in 9th or even "marseille" which is the second city in France, but the first in the ranking of passwords used in France. You can find the complete list of the 200 most used passwords directly on the Nordpass website.
Watching these statistics repeat themselves every year, we can see that raising awareness among users about the importance of creating secure passwords does not seem to be paying off. A problem that could solve the end of passwords as we know them today.