My dear impertinents, dear impertinents,
Bill Gross, is the founder of PIMCO, the Pacific Investment Management Company, which really doesn't matter to you to me, it's just that it feels good to start an article like this, the important thing is is above all that, as I have told you on several occasions, Bill Gross is the king of fixed income, the Warren Buffett of bonds, and that PIMCO was quite simply the biggest bond fund on the planet. When Bill Gross speaks, listen to him. PIMCO has since been taken over by the Allianz group, but that does not change Bill Gross' opinion.
Really.
Bill Gross has just given an exclusive interview to the Investing site, and the title is a program in itself.
"The Fed knows nothing"
According to Mr. Gross, Jerome Powell deployed the same tactics as Paul Volcker in the late 1970s and early 1980s, but without taking into account that the economy is much more indebted today. As he explains, if the Fed's rate hike site stops at 4.5%, we can still only see a "mild recession"; in contrast, anything above 5% would lead to a severe global recession.
"Recent events in the UK, cracks in China's property-based economy, war and the natural gas crisis in Europe, and a super strong dollar accelerating inflation in emerging market economies, allow to conclude that today's 2022 world economy looks nothing like Volcker's in 1979."
However, late last year he turned against the very asset that made him the "king of bonds", calling US Treasuries "garbage". Needless to say, he was right, as bonds suffered one of the worst crashes in their history.
You learn two things.
First of all for those who followed, indeed and I had spoken about it several times, Bill Gross had warned that it was necessary to flee the obligations, all of them, including those of the United States!
Then he also explained what I explain, which goes to show that anyone who pragmatically observes the situation without being deluded by the monetary authorities (who seek to maintain stability, not to tell the truth) , think the same thing, namely that:
"Cash is the best investment right now, because the Fed has already 'gone too far', investors need to recognize that a new era is dawning for the global economy and invest accordingly. A new era. We are de-globalizing, and equity investors recognize the future headwinds associated with global warming, geopolitical conflict, and an aging population.".
We are in a situation of immense complexity, but even VICA situations for volatile, uncertain, complex and ambiguous can be apprehended, and my job is precisely to support you and help you through these tormented periods, starting from the principle, that the more of us are resilient, the more resilient and strong our country will be.
It is already too late, but all is not lost.
Prepare yourselves !
Charles SANNAT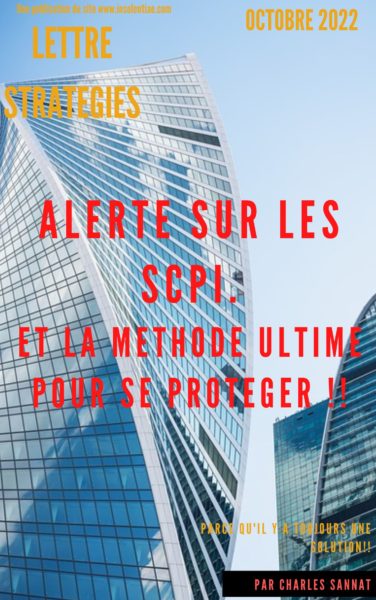 "Insolentiae" means "impertinence" in Latin
To write to me charles@insolentiae.com
To write to my wife helene@insolentiae.com
You can also subscribe to my monthly newsletter "STRATEGIES" which will allow you to go further and in which I share with you the concrete solutions to implement to prepare you for the next world. These solutions are articulated around the PEL approach – heritage, employment, location. The idea is to share with you the means and methods to put in place your personal and family resilience.
"To stifle peaceful revolutions, one makes violent revolutions inevitable" (JFK)
"This is a 'presslib' article, that is to say free of reproduction in whole or in part provided that this paragraph is reproduced following it. Insolentiae.com is the site on which Charles Sannat expresses himself daily and delivers an impertinent and uncompromising analysis of economic news. Thank you for visiting my site. You can subscribe to the daily newsletter free of charge at www.insolentiae.com. »
Source Investing.com here